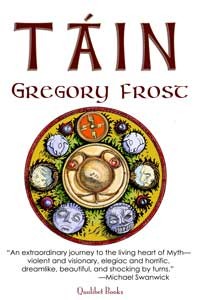 One thing stands between the army of Maeve the Intoxicator and its goal: a small young warrior named Setanta. Maeve, with all her cunning, sees no problem in dispatching him.
But Setanta is no normal defender. His father is a god, who has given him a monstrous power and a magical spear, and his skills were learned on a magical isle of women warriors. Alone against all odds and all comers, he fights as strange a war as was ever undertaken – in the narrows of every stream the army must cross.
Tain and Remscela are two books derived from the Ulster Cycle of Celtic mythology, known also as the "Táin Bó Cuailnge." The first comprises the story of a cattle raid upon Ulster Province perpetrated by the royal couple of Connacht, its neighbor, and the single-handed defense of the province by its semi-divine hero Cú Chulainn. The second, compiled from pieces of tales of Cú Chulainn and other heroes of Ulster, is the story of a hero in decline while his unforgiving enemy Queen Maeve sides with the supernatural sisters, the Morrigu, to take him on again…and this time for good.
Both Táin and Remscela are available in new ebook editions from the online authors' cooperative Book View Cafe.